Why Choose 561 for Your SEO Needs?    Simple… We're South Florida's Best!
We Help Your Business Navigate the Digital Landscape and Capitalize on Profitable Online Opportunities
Premier In House Agency
10+ Years of Experience
18+ Google Certifications
Premium Google Partners

Real-World Bottom-Line Results
Over 1000+ Satisfied Clients
Short & Long Term Structure
Cross Platform Integration

Full Service Digital Marketing
Local, Statewide, and National SEO
Proven Tier System Marketing Plans
Data-Driven High-ROI Campaigns
Call
(561) 417-8505

to Discuss Your Needs and Get a

FREE SEO Analysis
Leads & Conversions

SEO is about increasing your bottom line revenue…

Content Marketing

Content marketing is a crucial part of any ranking efforts…

Link Building

ONLY trust your link building to a top tier SEO agency…

Local SEO

Geo-specific local SEO efforts are an absolute necessity…

Mobile SEO

Mobile makes up over 50% of search and is growing fast…

PPC, Email, & Social Media

SEO works even better when combined with one or more…

Granular Analytics

Analytics give valuable insight that allows you to hone in…

Stages & SEO Phases

561Media has distinct Stages and Phases for your SEO including…

Our 3 Keys to Our Long Term Success
We've built our business on the foundations of:
Full Transparency:

Our clients can set it and forget it or be heavily involved in the process and receive regular calls. Either way we provide comprehensive monthly reports and status updates.

Consistent Results:

Our strategies work and have been proven over the course of hundreds of clients so that you get the proven methodologies that consistently generate momentum in the form of double digit (month over month and year over year) increases in website traffic, high quality leads, and profitable conversions.

Client Relationships:

We build mutually beneficial long term client relationships that we earn by going the extra mile and treating every customers business like our own.
Who We Are and What We Are About…
561Media.com is a premier SEO agency with established roots in South Florida and over ten years of experience building beautiful websites and providing world-class digital marketing and search engine optimization (SEO services, Content Creation, PPC Advertising, Link Building, Email Marketing, Mobile SEO, Local SEO, Social Media Marketing, Website Design, Logo Design, & More).
"This is my 3rd SEO Agency in South Florida. The first two promised the moon and then delivered a lot of excuses and rationalizations. I was impressed when Carey told me straight up they didn't make promises, just delivered results. I was hoping for 12% growth within a year but 561 delivered 32% by month 6 and 41% by month 8. All action and I love it."
We have well over 100 ongoing clients both locally in South Florida (across Broward, Miami Dade, and Palm Beach County), statewide in the Tampa Bay Area, nationally across the United States (Texas, California, Alabama, New Jersey, & More) and internationally including military and commercial global aircraft parts distributors and luxury global jet charter companies. Some other examples include a Boca Raton Acupuncture Clinic that provides Acupuncture Boca Raton services.
Our 2 Rules For Consistent Results
We treat every client's business like our own, with meticulous care, careful financial planning, and detailed analysis.
The only way to stay on top in both SEO and business is to keep climbing, and we are always building your brand bigger.
Our 561 Media SEO firm offers a wide array of economically priced monthly custom search engine marketing plans plans to fit any business on any budget. Talk to one of our specialists to find out more details on what is included at each well-established digital marketing tier.
Where We Are Located…

Our beautiful office is located in the heart of East Boca, a mile from the beach. Our clients love to come visit whether it is to run ideas by the team, see everyone working hard, cooperate on a new venture, or just stop in to hang out and say hi.
Our combination of industry insight, high level advertising agency experience, and relentless drive to be the best has earned us South Florida's top spot for premium digital marketing and search engine optimization services.
Our Bread and Butter
Though we started out over 10 years ago as a local company providing stunning custom website designs, web development and programming, and Boca Raton SEO services for an array of high profile South Florida clients and small businesses, our exemplary search marketing strategies and consistent double digit month over month increases in organic traffic quickly garnered state-level and then nationwide recognition.
We Let Our Results Do the Talking
Here at 561 Media we believe in producing ranks and results that speak for themselves.
"John, Josh, and Mike really impressed me with their research data and plan structure. Talk is cheap but the my organic traffic is up 287% from when I started and my year over year numbers are off the chart. Definitely the best Boca SEO Agency."
The Long Arm of Our Digital Marketing
Though we have digital marketing clients, website design clients, brand management clients, and SEO clients across South Florida including dozens in Miami, West Palm Beach, Fort Lauderdale, Delray Beach, Jupiter, Deerfield Beach, Hollywood, Pompano Beach, Boynton Beach, Coral Springs, Key West, and here at home in Boca Raton (as well as across central and eastern Florida including the Tampa Bay area and Orlando)…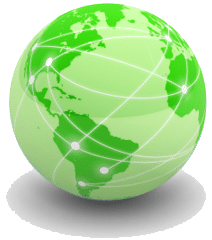 Our coverage extends well beyond Florida with numerous clients in Los Angeles, Houston, New Jersey, and a variety of other major metropolitan areas.
And while we happily handle the full array of SEO services and digital marketing efforts for large brands, providing consistent and exceptional results in dozens of industries for over our clients on full service contracts ranging from global e-commerce to regional services, our SEO experts absolutely love working with local small businesses to boost regional exposure, grow nearby traffic sources, and add that powerful push that only the best local SEO can bring. But we don't just stop there, extending our efforts to international clients and clients who do business both domestically and abroad, including a military and commercial aircraft parts distributor and a global luxury jet charter provider to name a few.

---
Traffic, Leads, Sales, and Conversions
Search Engine Optimization services (SEO services) are among the most feared and often misunderstood YET VITALLY IMPORTANT elements of any integrated marketing campaign.
It's ALL About the Bottom Line
FACTS:
93% of Online Experiences Begin with a Search Engine.
Google Owns 65-70% of the Search Engine Market Share.
70% of the Links that Searchers Click On Are Organic (SEO Rankings).
75% of Searchers Never Go Past the First Page of Search Results.
SEO Converts Leads at the Highest Rate in Marketing (~14.6%)
But SEO is worthless if it drives traffic but no leads or sales!
Here at 561Media, our campaigns ALWAYS focus on building the high quality traffic that drives leads and conversions.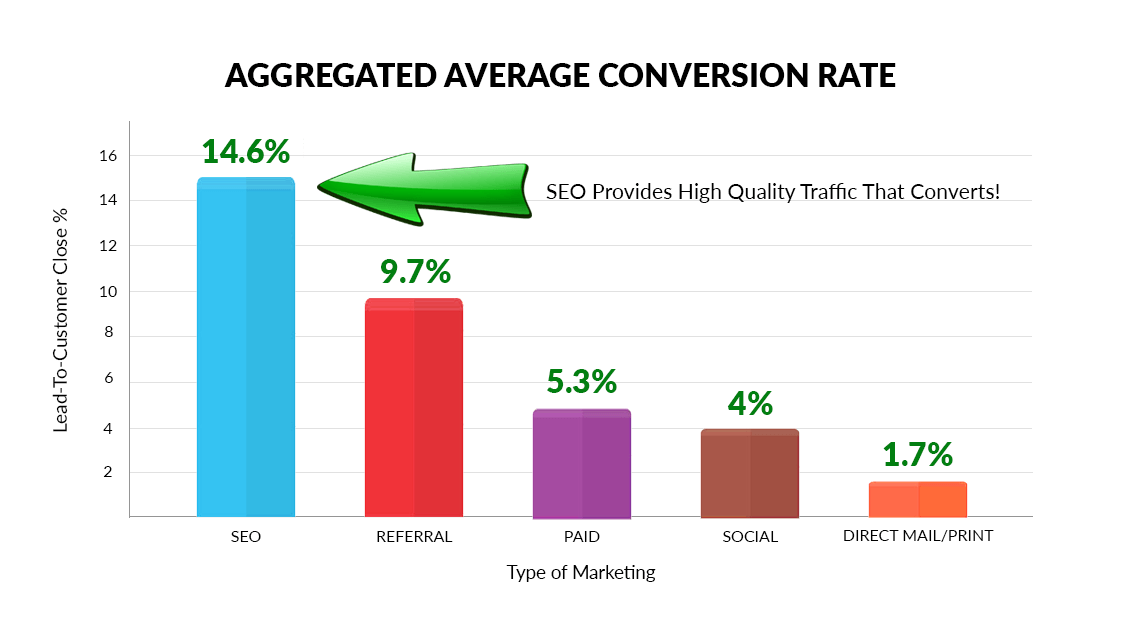 SEO overall definitely converts traffic at the highest rate, and drives the very traffic that converts to your landing page or website, but in order to fully optimize your conversion rate and bring you the largest streams of income, you need to customize your search engine marketing campaign to tackle different stages of the buying cycle, open up new customer bases, and take advantage of your particular products, services, niche market, or larger industry.

Not all SEO efforts are created equal.
Like a fingerprint, no two SEO or digital marketing efforts are the same.
---
Content Marketing
"Long (Valuable) Content is the New King!"
We help your site and brand by writing valuable, industry-specific, highly-shareable, hyper optimized content.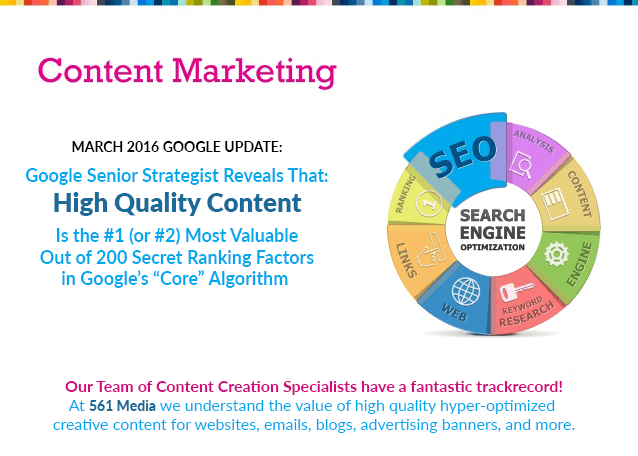 As far as Google is concerned, high grade content is the reigning King, and our content creation specialists have mastered the art of writing draft material (or taking your existing content) and transforming it into powerful page rankings!
Google prefers webpages with lots of value, and the main indicators of value revolve around unique content that keeps people engaged on the page and clicking around.

---
Link Building
"A Strong Link Portfolio is Arguably the #1 Rank Factor in the Google Algorithm."
SEO link building is a tried and true method for increasing a website's popularity and traffic through boosted keyword rankings.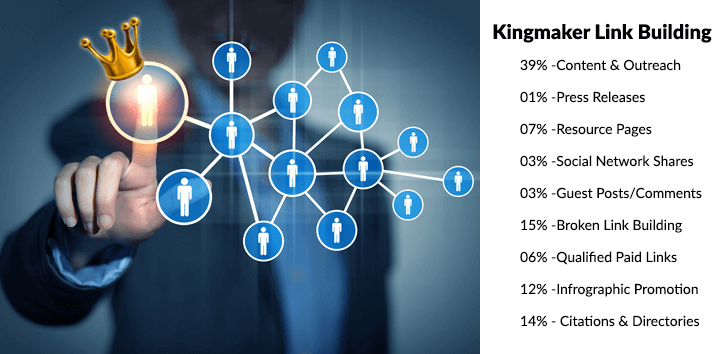 Our SEO experts use outreach, link reclamation, and directory submissions in a way that produces higher search engine rankings, not just higher levels of links.

---
Local SEO
"97% of Consumers Use the Internet When Researching Local Products/Services."
Many businesses only operate in a specific geographic area, which makes competing for broad, non-geographic search traffic a waste of time, energy and worst of all, money.

Local search, however, is going to play a vital role in rankings and organic traffic.
At 561Media, we excel at geo-targeted, local search engine optimization campaigns. Using long tail keywords, and geo-specific terms, we create ultra-specific keyword lists for local businesses. These meticulously researched keyword niches allow us to get local businesses to the top of search results for terms that produce valuable local leads at minimal cost.
---
Mobile Search Optimization
"More than 50% of Searches Come From Mobile Devices. That Figure Rises to 88% for Local Products/Services"
Smart watches, new phones, tablets, phablets, mobile devices, smart TV's, connected appliances, and cutting edge mobile tech elements have come to the forefront of the search industry.

These devices have taken Google by storm to the point where in 2017, Google will be switching to a mobile first algorithm that ranks your website for mobile devices first, and desktops/PC computers second. This is a huge change that is taking the SEO industry (and frankly the entire web) by storm, causing all sorts of ripples an changes that will be years in the making.
---
PPC Marketing Revenue Streams
"86.4 of All PPC Ad Impressions Accure to the Top 4 Spots."
561Media's search engine marketing team can also engineer and manage effective, paid search engine marketing campaigns. Our team understands how to deliver ads across a variety of platforms including Google Adwords, Bing Adcenter, Doubleclick, Google Content Network, Bing, Yahoo! and a wide array of social media and mobile platforms.
We are a Premier Level Google Certified Partner Agency and have multiple specialists with all 7 certifications in Google Adwords (Search, Video, Mobile, Shopping, Fundamentals, and Display) as well as Google Analytics.
---
Social Media Marketing & Management
"Engagement and Audience Size Are the Top 2 Key Social Media Success Metrics."
Social media has become a fully integrated element of modern society and social interactions, and thus an integral part of a brand's overall search engine marketing strategy.

At 561Media, we use social media to effectively enhance our customers' search engine optimization results and brand building efforts by giving a clear vision for client's to relate to, understand, and engage with.
---
Email Marketing Campaigns
Building a list of emails to engage through mail marketing campaigns is one of the surest ways to increase your business revenue streams. The open rates are notoriously low, with 10-20% being the strong range and the click through and purchase rates are percentage points off of the open rate, making the size of the list incredibly important.
Our well oiled process utilizes a number of in-house tactics to build and engage your list of existing clients and potential leads, and then structure both automated and dynamic email marketing campaigns to provide useful content and capitalize on sales.

---
Business Intelligence and Granular Analytics
As a central measurement point for our SEO efforts, the search engine optimization team at 561Media ensures that Google Analytics are properly installed and configured on every website we optimize including the set up of any or all of the following as necessary:
Universal Analytics
Cross Device Tracking
E-commerce Tracking
Enhanced E-commerce
Goal/Conversion Tracking
Contact Form Tracking
Newsletter Sign Up Tracking
Host-Name Spam Filtration

We also link you analytics to any applicable cooperative elements including:

AdWords and Facebook Ads
Google Merchant Center
Your YouTube Channel
Webmaster Tools
Tracking Software such as AWR

The data our SEO specialists collect from Google Analytics is used to analyze where website traffic is coming from and why, as well as enhance optimization initiatives and find additional leads & marketing opportunities for clients.

---
SEO Stages and Marketing Phases
"What You Don't Know (And Don't Do) CAN Hurt You!"
Our search engine optimization packages takes advantage of best-in-breed search engine optimization techniques to make your website a search engine optimized powerhouse.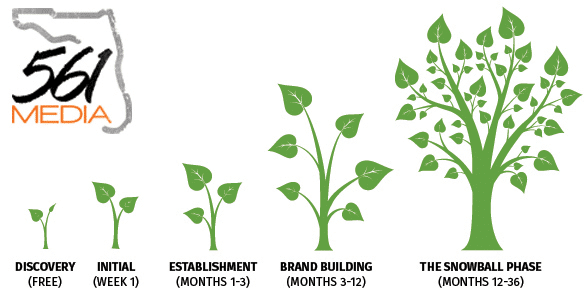 Our SEO experts will custom-tailor a research driven keyword menu for your business which will be used to optimize every page on your site. You will also gain access to industry standard website traffic measurement tools, and receive a benchmark report showing exactly how your website ranks on search engines before it is optimized.
1. INITIAL SEARCH ENGINE OPTIMIZATION
SEO DISCOVERY
"Discover Untapped Opportunities to Lure High-Grade Organic Traffic"
The first step of any search engine optimization program with 561Media is the process of familiarizing ourselves with your brand, your industry, and your website.
During this crucial step, one of 561Media's dedicated SEO specialists will discuss your company, its goals and the competitive landscape it operates in, to help determine the most effective course of action for your customized search engine optimization strategy.
INITIAL SEO
"Your Business is Only as Strong as Its Foundation"
Just as a comprehensive well thought out business plan is key element to starting a successful business, our initial SEO efforts are similarly valuable to your long term digital marketing success.
Our specialists systematically break down the market research, competitive analyses, existing content, depth keyword research, and short/long term goals laid out through the Discovery and hours of independent fact finding, to create a comprehensive plan for moving forward.
2. ADVANCED SEARCH ENGINE OPTIMIZATION
ESTABLISHMENT PHASE
"To Establish is to Gain Roots and Grow Strong"
No two industries operate the same way, have the same level of competition, or profit from the exact same sales funnel. At 561Media, our search engine optimization strategies are research and ROI driven; designed to be just as unique as your company.
During the Discovery and Initial Phases we are laying the groundwork for all of the split tests and algorithm manipulations we perform during the first 3-6 months depending on the competitive nature of the industry and age of the website.
From testing meta descriptions to improve click through rates to adding content to specific pages to increase the average session duration and pages per session, we are rolling up the sleeves and digging in to every aspect of your site that matters to not only Google but your clients.
If you have the properly allocated marketing budget, you may want to invest in Facebook Ads (social media marketing) and/or Google AdWords (ppc marketing) during this phase to generate short term returns on investment and give your SEO the time it needs to develop from a sapling into a redwood. Content creation for blogs and social media outlets also builds a strong foundation to capitalize on later.
BRAND BUILDING PHASE
"Transform from a Business into a Successful Brand"
Once we have climbed your business out of Google's basement and into the light where established levels of traffic can find and enjoy, it is time to ramp up the efforts and take the next critical steps in brand building.
Every step of your journey, your competition will be struggling to beat you in search results, and any improvement they see in your website's search engine ranking will only further motivate them to improve their own results. With this said, It's incredibly important to maintain and further improve results.
Most of the work in maintaining good search results involves monitoring the landscape and making adjustments while building strong link portfolios, hyper optimized long content blogs and page content, and split testing to further refine your results.
This phase provides a wealth of opportunities for both short and long term gains, and should be capitalized on to open up new streams of revenue down the road. Examples include list building for follow up email marketing, social media brand building for follow up targeted social marketing campaigns, low budget brand protection PPC campaigns to protect your direct clicks and increase paid statistics for follow up display advertising, search, video, or shopping campaigns. 
THE SNOWBALL PHASE
"There is an SEO Threshhold Where Resistance Fades and Momentum Begins to feed Its Own Progress."
This is the enjoyment phase as you have successfully navigated the digital landscape and set yourself up for sustained long term success while enjoying increased revenue and profit margins. Your business is now an avalanche that no single competitor can easily derail, and you will successfully build on your own existence, gaining a higher percentage of the traffic with minimal alterations.
At this point it is vital to refine your sales funnel by providing content to clients at different phases of the buying cycle, honing in on copywriting split-tests that increase conversion rates, adjusting upsells and sales funnels to boost your average customer value, establishing your lifetime customer worth for campaign thresholds, and enhancing efforts that tighten the stranglehold you have over the critical core of your keyword list while expanding new efforts outwards into new opportunities. 

More Resources