561Media – Providing Delray Beach with Premier SEO Services for Over 10+ Years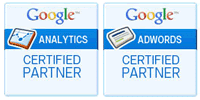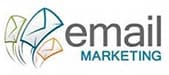 The

#1 SEO Company

in Delray Beach
SEO Services That Boost Exposure and Increase Revenue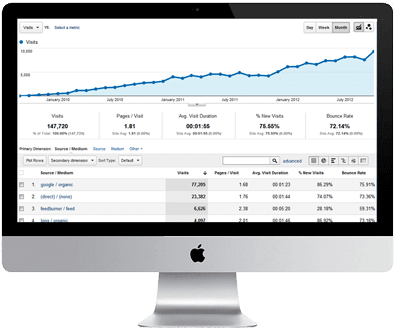 Ready to Make More $$ and Increase Your Business Revenue?
Looking to Get Noticed and Surpass Your Competition?
Capable of Handling a Fresh Surge of Leads and New Customers?
The Evolution of Powerful Search Marketing
11 Years of Experience  •  Proven SEO Strategies  •  Data-Driven High ROI Campaigns  •  Real World Results  •  527+ Satisfied Clients
561Media.com is a top tier Delray Beach SEO agency with strong established roots in the South Florida culture and over eleven years of experience providing world-class digital marketing and search engine marketing (SEO services, Content Creation, PPC Advertising, Link Building, Email Marketing, Mobile and Local SEO, Social Media Marketing, Website Design, Logo Design, & More).
We have clients both locally (Boca Raton, Delray, Boynton, West Palm, and across the rest of Broward and Palm Beach Counties) as well as servicing businesses across the nation (and internationally) including military and commercial global aircraft parts distributors and luxury global jet charter companies.
Call (561) 417-8505 For the Best Deals!
We've built our business on the foundations of:
Transparency: Our clients can set it and forget it or be heavily involved in the process and receive regular calls. Either way we provide comprehensive monthly reports and status updates.
Consistent Results: Our strategies work and have been proven over the course of hundreds of clients so that you get the proven methodologies that consistently generate momentum in the form of double digit (month over month and year over year) increases in website traffic, high quality leads, and profitable conversions.
Client Relationships: We build mutually beneficial long term client relationships that we earn by going the extra mile and treating every customers business like our own.
Why Choose the 561 Media Internet Marketing Team to Take Your Business to the Next Level?
Here's the deal.. the raw real truth.
Our clients often come to us after getting burned at other SEO Agencies and local SEO companies in South Florida. These places are running 1-3 man teams and taking on more clients than they can handle, selling you on a big plan and then delivering low end results.
If you own or are starting a business it's critical to have a strong digital marketing team in your corner. In 6 months we can accelerate your business profits as if you had been in business for 3 years. By the end of a year we have taken you 5 years into your revenue generation.
Plus, there is no better Delray SEO Agency than 561Media, because we have a proven track record with Delray Beach SEO clients.
"Most SEO agencies will try to keep you from falling behind, but at 561Media they design campaigns to push you out in front of the curve and set you up for MASSIVE short and long term success."
SEO Agency Services: Creative Content
"Valuable Content Builds Brand Awareness + Good Leads"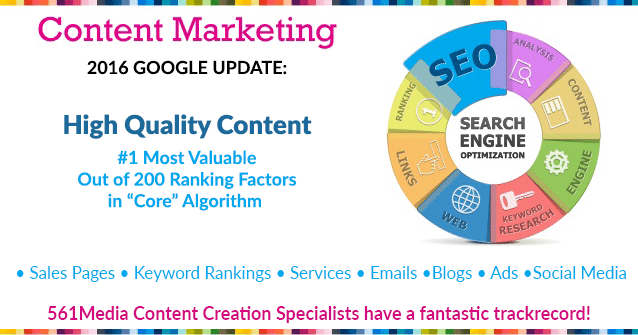 For Google, high quality valuable content is STILL the undisputed King.
Our experienced content creation specialists have spent years mastering the essential techniques of writing heavily-researched industry-specific material for clients, and excel at taking existing content to the next level for powerful page rankings! An example of this can be found in this Delray Beach acupuncture clinic.
FACT: The content for 1st page rankings across industries averages 2567+ words and a valuable blog requires 1255+ words.
But just adding words is never enough! We add content with value to your business, customers, and bottom line revenue. 
SEO Agency Services: Link Building
"Links Build Rank. Rank Builds Traffic and Revenue"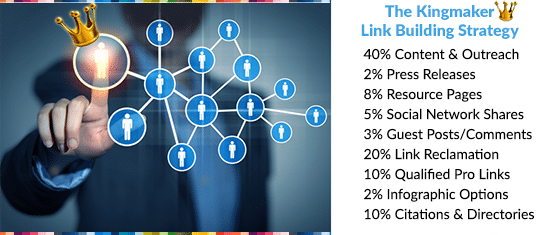 At 561Media we've developing an effective link building strategy using innovative white hat SEO techniques through our established network of industry specific opportunities.
Our results speak for themselves. We consistently generate 22-35% increases in organic traffic across a 3 to 6 month span and we can turn almost any online presence into a profitable revenue stream.
Word of Caution: Whether you choose us or not, make sure you are ONLY getting highly-qualified, industry-specific links from legitimate and verifiable sources.
We build your links the right way, through good content, social shares, amazing blogs, insider networking, and local directories (to name a few).
Our Delray SEO team uses cutting edge software and our own set of SOP's (standard operating procedures) to craft your search engine optimization link portfolio in a way that turns your business into an brand in ways that can add hundreds of new customers per month.
Mobile & Local SEO
"88% of Searches for Local Products/Services Come From Mobile."
Many businesses, such as this acupuncture Delray Beach clinic, only operate in a certain geographic area, which makes competing for broader, non-specific search traffic a waste of time, energy and worst of all, your money.
We focus on ultra-valuable local and mobile searchers that are critical to the bottom line of your business because they drive leads and conversions.
Example: One of our amazing SEO Clients Grimes Events & Party Tents…
Ranks #1 on Page 1 for:
"Delray Tent Rentals"
"Party Tent Rentals Delray"
"Delray Event Tents"
And more than 25 other terms.
Their local #1 rankings generate hundreds of searches and a wealth of calls and contact form requests every single month!
The 561Media Team
Our strong in-house team features:
Top level content marketing and copywriting specialists who have authored content responsible for over 230K in sales.
AdWords professionals with 14 combined Google certifications including Search, Display, Shopping, YouTube, and Mobile.
Social media savants in Facebook, Instagram, LinkedIn, and Twitter with highly successful outreach, branding, and sales campaigns.
Dependable link building experts with outreach connections across dozens of industries including guest bloggers with posts on Forbes, Huffington Post, and other highly relevant media outlets capable of providing niche and keyword specific links.
Local and Mobile SEO technicians able to assess analytics on a granular level to ensure your business maximizes every stream of revenue from mobile and geographic conversions.
Our Delray SEO company employees are hand selected because they combine top tier talent with blue collar work ethics. We take an immense amount of pride working together to provide the best SEO results for your company.
We treat your business like our own… We specialize in exceeding expectations!
You used to be able to depend on the Yellow Pages but now Google is the Yellow Pages. And it is far more effective.
Today, when a consumer wants information about anything, they turn to Google or Bing for answers. And when a consumer is deciding where to go and what businesses to trust in their area, they are using social media, mobile searches, and local information to make vital decisions.
This provides a huge opportunity for businesses. You have a wealth of potential customers searching for what you offer all the time. You just have to get in front of them.
Why Your Delray Business Needs SEO!
In addition to being a beautiful city in South Florida, Delray Beach is also growing rapidly and new businesses are springing up everywhere you turn including great restaurants, clothing retailers, juice spots, boutiques, and so much more.
Along with the Boca Raton SEO, our Delray Beach SEO Agency covers a big percentage of our South Florida clients.

561Media makes it's home in the nearby Delray region and knows what it takes to build, challenge, compete, and grow strong in the highly competitive South Florida markets.
Every day dozens of Delray and South Florida businesses have to close because they simply didn't take the right marketing approach.
For every business that closes two are opening, meaning more competition for existing businesses to hold onto their existing clientele and to attract new clientele.
Every new business owner has to work twice as hard to make a name, offer deals, and find a way to build their clientele from scratch.
As an affluent town, the residents of Delray are tech savvy and are usually seen sporting the latest edition or upgrade of the new iPhone, Google Pixel, Android, or iPad in hand.  These resident's, (which we at 561 Media like to call your "potential clients" or customers) are using these devices to determine where they are going to shop next for shoes, food, jewelry, or even to look up the nearest pizza delivery.

Google can connect you with more business opportunities than just about any other method or medium available, and we connect you with new opportunities at the exact moment that opportunity is looking for you.
In order for Google to do this you need a decent website and strong well defined internet presence that you optimize over time.
At 561 Media, we can create a custom website design and optimize that website over several months so that you show up strong in the search engines and are found by your potential clients.
Or…
We can take your existing website and client base and SUPERCHARGE YOUR BUSINESS!
The process of optimizing your website for search engines like Google is search engine optimization (or SEO).
SEO IS CRITICAL FOR 9 OUT OF 10 BUSINESSES!
SEO services from a legit Delray SEO Agency can be the difference between getting by and having more customers than you know what to do with. Plus SEO gathers momentum over time, allowing you to gain enough speed to steamroll your competition.
What is Search Engine Optimization (SEO)?
According to the Beginners Guide to Search Engine Optimization from MOZ, a highly prominent marketing analytics software company, SEO is defined as:
"A marketing discipline focused on growing visibility in organic (non-paid) search engine results. SEO encompasses both the technical and creative elements required to improve rankings, drive traffic, and increase awareness in search engines."

At 561 Media, our job is to help you build your business and achieve your marketing goals whether you want leads, sales, downloads, brand building, or any other valuable key performance indicator.
Our SEO department has a stellar track record. We've produced impressive search engine rankings for our clients and we would be happy to share some of those result with you.
Over a decade ago we started out as a web design company and by ranking our own business on page one in Google for terms like 'custom website design'. We were able to surpass over 200 million other websites (many of which were established website design companies)!
We can do the exact same thing for you in any industry.
Want to learn more about Google AdWords Paid Advertising, or Facebook Social Media Marketing, or Mailchimp Email Marketing Campaigns?
We are happy to integrate any digital marketing elements into your SEO campaign. Try them out at super low costs then scale up when you see how profitable these avenues of marketing can be.
Are you tired of waiting for the phone to ring?  Looking to grow your business?  Call us today at (561) 417-8505.
Don't live in Delray or run your business in a different city?
Our SEO agency provides full service comprehensive digital marketing packages, and we specialize in exceeding expectations for all your South Florida SEO agency needs, as well as handling Tampa SEO agency services, Orlando SEO agency services and extending coverage across north, west, and central Florida. Need a Palm Beach County seo agency? We cover all your Boca SEO agency needs, Boynton SEO agency services, West Palm SEO agency requirements, Lake Worth SEO agency services, Wellington SEO agency needs, Palm Beach Gardens SEO agency elements, Lantana SEO agency needs, Green Acres SEO agency services, Riviera Beach SEO agency responsibilities, Jupiter SEO agency campaigns, and more. Need a Broward County SEO? We handle Pompano SEO agency marketing, Deerfield SEO agency digital marketing, Coral Springs SEO agency needs, Miramar SEO agency responsibilities, Fort Lauderdale SEO agency needs, Hollywood SEO agency services, Pembroke Pines SEO agency digital marketing services, Plantation SEO agency digital marketing, Davie SEO agency internet marketing, and more. Need a Miami Dade County SEO agency? We cover all your Miami SEO agency or Miami Beach SEO agency digital marketing, Coral Gables SEO agency services, Homestead SEO agency marketing, Hialeah SEO agency needs, and Key Biscayne SEO agency services, covering all the way down to Key Largo SEO agency digital marketing services, Islamorada SEO agency internet marketing, and Key West SEO agency digital optimizations.