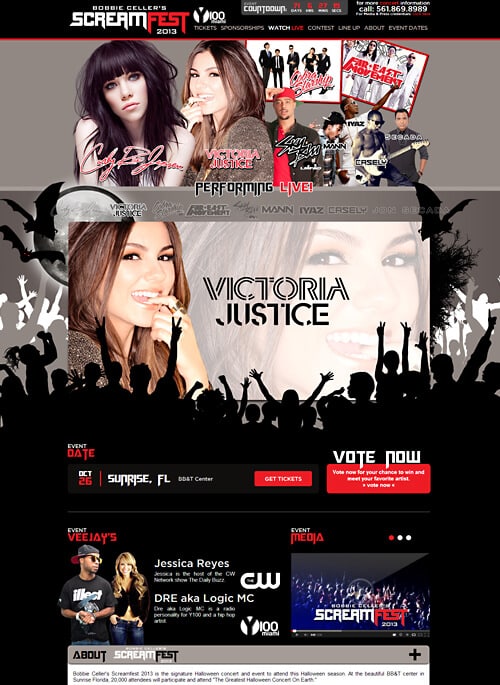 « Go Back
Screamfest
Fort Lauderdale, FL
Description
Bobbie Celler's Screamfest 2013 is the signature Halloween concert and event to attend this Halloween season. At the beautiful BB&T center in Sunrise Florida, 20,000 attendees will participate and attend "The Greatest Halloween Concert On Earth."
With amazing headliners like Carly Rae Jepsen & Victoria Justice and other artists performing live such as Far East Movement, Sky Blue, Cobra Starship, Iyaz, Casely and Mann, this is event you cannot afford to miss. Hosted by Jessica Reyes of The CW Network and Dre (Logic MC) of Y100 Miami and presented by Bobbie Celler, Screamfest 2013 includes an interactive and dynamic event atmosphere and preshow that cannot be matched.
Specifications
Testimonial
Unfortunately, we do not have a testimonial from this client. This could be one of several reasons:
The client was so overwhelmed by the finished product, and the consequent improvement to their business, they have not had time to provide us with a testimonial.
The client provided a testimonial, however, in their enthusiasm used profanity to describe our services.
The client took the old adage "words can't describe" too literally.
The testimonial was illegible from tears of joy.
The word "love" was used more than 10 times.
The client believed we were too good to be true and dismissed their entire experience at 561Media as a dream.
We had to take a restraining order against the client for excessive, effusive appreciation and cannot violate a gag order.
The client didn't speak English – (we don't know what "lo mejor" or "ausgezeichnet" means).
A 300 page testimonial seems overkill.
We thought this was funnier than the client's testimonial.
Keyword Descriptions

Contact Us Now To Get Started