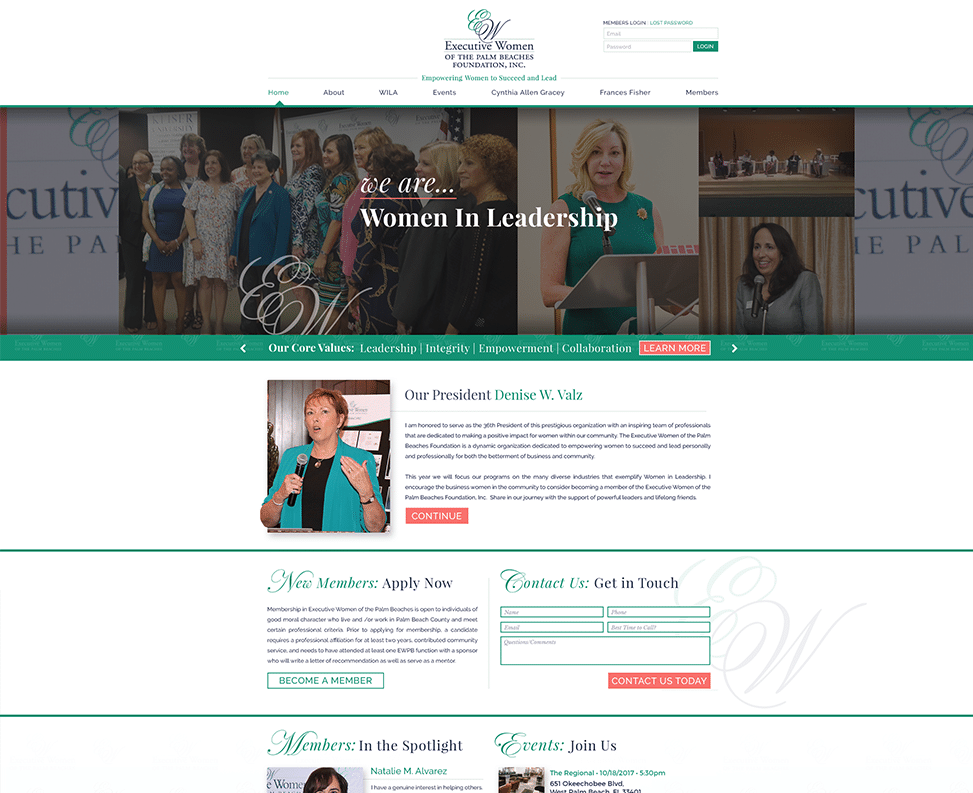 « Go Back
Executive Women of the Palm Beaches
Description
Executive Women of the Palm Beaches Foundation, Inc.(EWPBF) was founded by senior professional and executive women in Palm Beach County, Florida, to support and advance women in business and community leadership. Today, EWPBF's membership includes leaders in arts & culture, banking, business, construction, education, finance, government, healthcare, law, marketing, non-profit management, publishing, real estate, utilities, and many other business endeavors in Palm Beach County.
EWPBF is dedicated to inspiring women personally and professionally for the betterment of business and our community.
EWPBF strives to further the interests of and opportunities for executive and professional women to excel by providing opportunities for networking and collaboration, educational programs that address timely issues, mentorship, and the development of leadership and advocacy skills. In addition, our membership offers professional and volunteer expertise to numerous nonprofit organizations in our area.
Specifications
Custom Website Design
Our custom website designs include a beautiful home page layout, completely customized for you, along with a custom executed shell to contain all inner pages. All of our custom website designs are built to look and feel professional so that visitors to your site feel comfortable and safe using your service. Every web design is also built to be extremely user friendly.
jQuery Slider
Having a JQuery Slider integrated on your website design allows you to have simple and smooth image galleries and slideshows showcasing what you do and how you excel in your industry, corporation, small business or hobby. 561 Media can integrate any type of jQuery Slider to your website design.
Search Engine Optimization
561 Media will optimize your website front to back using standard Search Engine Optimization (SEO) techniques as well as proprietary methods proven to gain strong organic listings. This will include the optimization of page titles, keywords, descriptions, images and more. Our goal is to optimize your site so that when a potential client searches for your service or company, you show up on the first page of all the major search engines. These include Google.com, MSN.com and Yahoo.com.
Wordpress
WordPress started as just a blogging system, but has evolved to be used as full content management system and so much more through the thousands of plugins, widgets, and themes, WordPress is limited only by your imagination. If you would like a Word Press site, 561 Media can customize any theme according to your industry.

Testimonial

I want to start off by letting you both know what a pleasure it has been working with 561Media to create our new website. Mike Messiha has been a wonderful guide throughout the entire process, literally bringing our vision to life and my Board of Directors could not be happier with the outcome.  561Media will always get high recommendations from me pushing potential clients your way. Michele Foundation Manager

Keyword Descriptions

Contact Us Now To Get Started