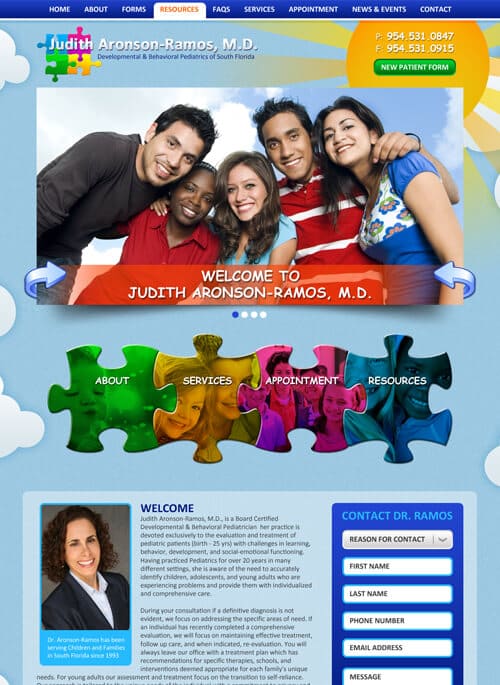 « Go Back
Dr Ramos
Boca Raton, FL
Description
Dr Aronson-Ramos has been serving Children and Families in South Florida since 1993. She received her undergraduate degree from Dartmouth College, her M.D. from the University Of Miami Miller School Of Medicine, and completed her Pediatric Internship and Residency at Jackson Memorial Hospital in Miami, Florida. She received her Board Certification in Developmental and Behavioral Pediatrics through the clinical pathway program in 2007.
Dr. Aronson-Ramos is one of the few Board Certified Developmental & Behavioral Pediatricians in south Florida, and she brings a unique perspective to the treatment and care of children, families, and young adults affected by developmental disorders, learning disabilities, social and emotional difficulties, and behavior problems. She is a member of numerous professional organizations dedicated to research, treatment, and advocacy for individuals with special needs and their families.
Specifications
Testimonial
Unfortunately, we do not have a testimonial from this client. This could be one of several reasons:
The client was so overwhelmed by the finished product, and the consequent improvement to their business, they have not had time to provide us with a testimonial.
The client provided a testimonial, however, in their enthusiasm used profanity to describe our services.
The client took the old adage "words can't describe" too literally.
The testimonial was illegible from tears of joy.
The word "love" was used more than 10 times.
The client believed we were too good to be true and dismissed their entire experience at 561Media as a dream.
We had to take a restraining order against the client for excessive, effusive appreciation and cannot violate a gag order.
The client didn't speak English – (we don't know what "lo mejor" or "ausgezeichnet" means).
A 300 page testimonial seems overkill.
We thought this was funnier than the client's testimonial.
Keyword Descriptions

Contact Us Now To Get Started